RDFS/OWL Visualization Language (RVL)
http://purl.org/rvl/
Authors:

Contact:

jan.polowinski at tu-dresden.de
Imported Ontologies:
Download / Source view:
---
Abstract
RVL is a declarative language that allows to specify a mapping from RDF(S)/OWL concepts to visual means that are defined in the Visualisation Ontology (VISO). The syntax is based on RDFS, while the semantics are given by means of SPIN rules.
RVL was developed in the SemVis project by Jan Polowinski. More on RVL can be found in the Wiki.
Overview of Mapping Classes in RVL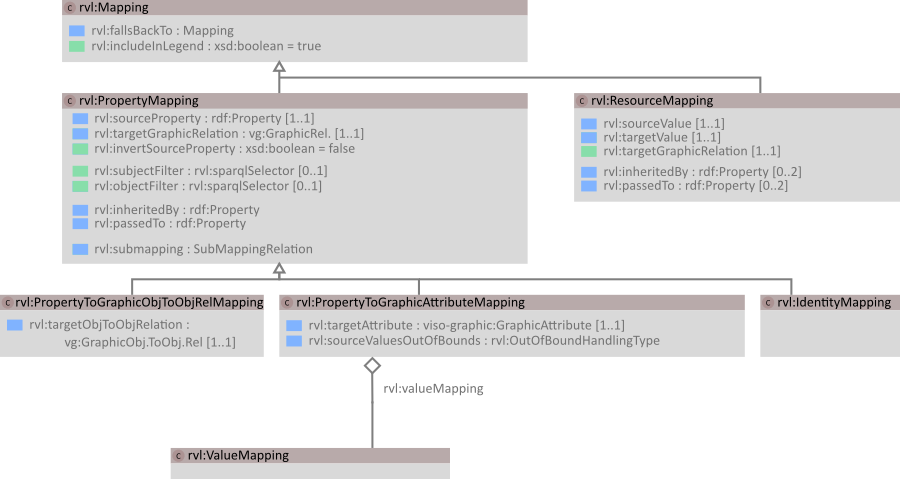 Overview of Datatypes used in RVL
MissingSourceValueHandlingType: Hide, Ignore, Missing (default), Neutral, Average
MissingValueMappingHandlingType: Calculate (default), Hide, Neutral, Ignore, No mapping, Average
NeutralValueHandlingType: Average, Style
OutOfBoundHandlingType: Cut (default), Clamp
ScaleTransformationType: Linear (default), Logarithmic
Data Properties
Namespace Declarations

▲
default namespace

http://purl.org/rvl/

basic

http://prismstandard.org/namespaces/1.2/basic/

bibo

http://purl.org/ontology/bibo/

bibo-extension

http://purl.org/viso/bibo-extension/

data

http://purl.org/viso/data/

event

http://purl.org/NET/c4dm/event.owl#

foaf

http://xmlns.com/foaf/0.1/

graphic

http://purl.org/viso/graphic/

ns

http://www.w3.org/2003/06/sw-vocab-status/ns#

owl

http://www.w3.org/2002/07/owl#

rdf

http://www.w3.org/1999/02/22-rdf-syntax-ns#

rdfs

http://www.w3.org/2000/01/rdf-schema#

schema

http://schemas.talis.com/2005/address/schema#

skos

http://www.w3.org/2004/02/skos/core#

terms

http://purl.org/dc/terms/

xsd

http://www.w3.org/2001/XMLSchema#
Work on this project received financial support from the European Union and the Free State of Saxony.

This HTML document was obtained by processing the OWL ontology source code through LODE, Live OWL Documentation Environment, developed by Silvio Peroni.